Acai & Cupuacu Lip & Skin Balm
€12.50
The Balm to nourish dry lips and more.
WHAT IS IT?
This multi-purpose balm not only moisturizes, repairs, and regenerates chapped lips but is also suitable for nourishing your elbows, cuticles, and feet.
WHAT DOES IT DO?
It contains a precious blend of Cupuacu Butter, Acai, and Passion fruit oils, and Bisabolol. It provides a rich and nourishing treatment for the skin, in addition to having an efficient anti-inflammatory and antioxidant action, as well as helping in the healing and protection of the skin.
FOR WHOM?
For all skin types. It can also be used anywhere to soften dry, rough areas of skin.
HOW TO USE IT?
Use this versatile product as needed for all-over nourishment and care.
Size: 15 ml
Description
KEY INGREDIENTS & WHY THEY WORK:
ORGANIC CUPUACU BUTTER: An Amazonian Butter with an incredible moisturizing effect. It promotes elasticity and suppleness of the skin while boosting the recovery of its natural moisture and hydration. Our supplier collaborates with northern Brazilian communities, where the production of this butter plays a significant role in supporting family incomes. Cupuaçu trees are cultivated within agroforestry systems, and what was once considered waste, cupuaçu seeds, are now repurposed into a valuable butter.
ACAI EXTRACT AND ORGANIC OIL: Native to Brazil, this is a superfruit which has anti-inflammatory properties and is full of antioxidants. It fights free radicals, reducing the signs of aging and it helps heal damaged cells and restore moisture. Our Acai oil is organic and is sourced sustainably through upcycling, in collaboration with a supplier dedicated to fair-trade practices and the preservation of the Amazon rainforest.
PASSION FRUIT OIL:  Its vitamins and fatty acids help to protect against sun damage, moisturize and soothe the skin. Our passion fruit oil i cold pressed and from Brazil. Our supplier supports local communities, conserves species, and maintains biodiversity in an ecologically significant region.
BISABOLOL: The primary component of the essential oil extracted from chamomile. It has potent anti-inflammatory properties, helping to soothe and soften the skin.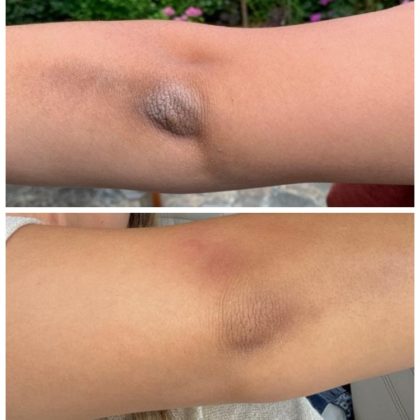 Our customer's experience
For long I had dry elbows and started to use the Acai & Cupuacu Lip Balm. After 1 week of use I could already see the results. I love it!
Additional information
| | |
| --- | --- |
| Skin Type | Ageing, Blemish prone, Dry / dehydrated, Hyperpigmentation, Normal, Oily / Combination, Sensitive |